You're about to discover an innovative approach to visibility that will help you break through the noise online as you create deep trust and rapport with your audience and consistently engage and inspire them in a way that makes them eager to hire you...
My proven 7-Step program is designed to help you quickly create your aligned and effective marketing rhythm that gets results in 30 days or less... without complicated funnels, expensive ads, or icky sales tactics.
Why is it that some entrepreneurs are making more money than they ever have while others can't seem to break through the noise no matter what they do? 
If you're in a constant hustle to attract and enroll clients in the noisy online space...
If you've "tried everything" and can't seem to create a consistent online presence that leads to sales...
If you're not sure about what is working best to attract and enroll clients in the evolving online market...
This is for you.
Keep reading to have what could be the most important shift you make this year.
I'm going to share how you can create your unique-to-you, aligned, and inspired visibility strategy and streamlined marketing rhythm that attracts and enrolls clients from the inside-out...
...so that you can stand out in the noise now and position yourself as a leader in the evolving online market for years to come.

But before I can do that, there are a few important questions for you to answer...
How are you navigating the "new normal?"
 Are You...
Overwhelmed because the online space has gotten so crowded during the last 6 months and you're not sure how to break through the noise or what's working NOW? 




Treading water trying to figure out how to move forward and gather momentum that attracts clients and makes money during this disruption and beyond? 


Tired of the hustle and burnt out from spending tons of time, energy, and money "being visible"... but still not having all the clients and income you want? 


Confused because there are so many platforms and apps that you don't know where to start...



Worried that the "old way" just isn't working anymore and all the tactics, strategies, blueprints, templates, and formulas seem to fall flat in our new virtual world? 



Or maybe you're...
Wanting to connect with the huge number of people spending unprecedented amounts of time online, who are looking for the solution you are uniquely able to help them get?





Wishing you could easily and authentically engage and enroll all the clients you want, no matter what's going on in the world around you?



Looking for a way to make marketing inviting, and closing sales without feeling icky, awkward, and/or pushy?
If any of this rings true for you rest assured…
You're in the right place...
...and you're not alone.




It's time to step up and share your message with the world through your high-impact, thriving, and purpose-led online business without constant hustling, endless striving, or staying stuck treading water during this crazy time...
This can be where you...


Stop spinning your wheels in the constant hustle of reactive-mode marketing, where you're always trying to figure out what will work to attract and enroll clients


Have the marketing transformation, message make-over, and clarity kick-start that you need to finally have a sustainable, consistent, and trusty rhythm, that lets you attract and enroll clients by being more aligned and inspired...


Walk away from social media overwhelm, icky sales tactics, endlessly trying to embrace the next new technology, or spending all day on social media chasing after clients
Did you know that it's actually quite common for purpose-led experts, coaches, and healers who feel called to share something big with the world to be overwhelmed and unsure about crafting and sharing their marketing message?
Many Transformation Industry professionals LOVE to DO their work but don't love marketing it.
Stepping up to become a highly visible expert and trusted thought leader online can be intimidating, vulnerable, and overwhelming.
I know first hand because visibility and marketing myself didn't come easily to me at first.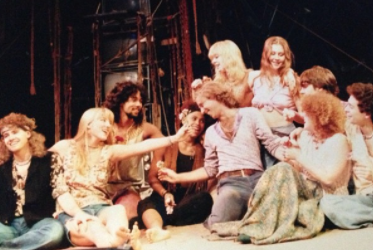 My first calling was to perform. From an early age I longed to sing and pursued a career as a performer working in professional theatre from the age of 17. As an actor and a singer "craft" was my sweet spot. I could rehearse and perform all day long but in order to make a living as a professional performer you have to spend most of your time auditioning and promoting yourself. This was a huge pain point for me.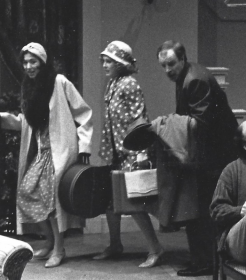 When I sang in front of others I choked. My voice would physically seize up. Eventually I stopped singing. As an actor, nerves, striving, and feelings of inadequacy dogged my every audition. Despite this lack of confidence and perfectionism, I was fortunate to have considerable success even earning my living for years doing TV commercials which is where I discovered something surprising...
I had no problem promoting some one else's stuff...but promoting myself was excruciating.
Thankfully, that calling to share something big persisted. Can you relate? It fueled my journey to find and free my voice that led to deep healing of hidden thought habits and blocks around being seen and heard that held me back through self-doubt, low-self-worth, and paralyzing fears around being judged or ridiculed.
As I found my voice and my own permission to self-express I discovered that my experience made me uniquely able to help others heal their blocks and fears around being seen and heard. This led to my teaching on the faculties of Elynn Diamond Studios at Carnegie Hall and the Rasa Yoga Studio in NYC and eventually having my own teaching studios in New York City and Portland, Oregon. 
For almost 20 years I ran in person transformational workshops and courses but was in a constant hustle to attract and enroll clients because marketing felt icky.
I didn't want to be pushy. I didn't want people to think I was "full of myself." I didn't want people to judge me or challenge my own fears that I was a fake. I didn't value my mentoring based on the results people were getting -- the profound transformations, increased prosperity, new confidence in life and business -- but rather what I hoped they would pay. I discounted and gave away services again and again and always struggled to make ends meet.
At the time, I thought I was doing everything I could... but I wasn't being visible, wasn't using social media, wasn't crafting compelling offers and invitations, wasn't growing my audience, wasn't taking my place as a leader... and I was exhausted, busy all the time, not making enough money, frustrated, fed-up, and ready to give up -- for the hundredth time...
So I quit. I sat on my porch, sipped tea, and asked the universe for a sign.
"If you always do what you've always done, you'll always get what you've always got." 
As soon as I sat still I had a huge realization that the same perfectionism, self-doubt, and fear of what other people think that made auditioning so painful and unsuccessful was keeping me from sharing my message in the biggest possible way. I was still holding myself back.
I was quickly guided to a high-level coach who helped me transform my understanding of what marketing can be and I began to rewire my experience of marketing as I realized that it was simply sharing my message for the greatest good of all including myself. 
I made a decision to embrace marketing, committed to reaching and serving my aligned audience in the biggest possible way... and took action!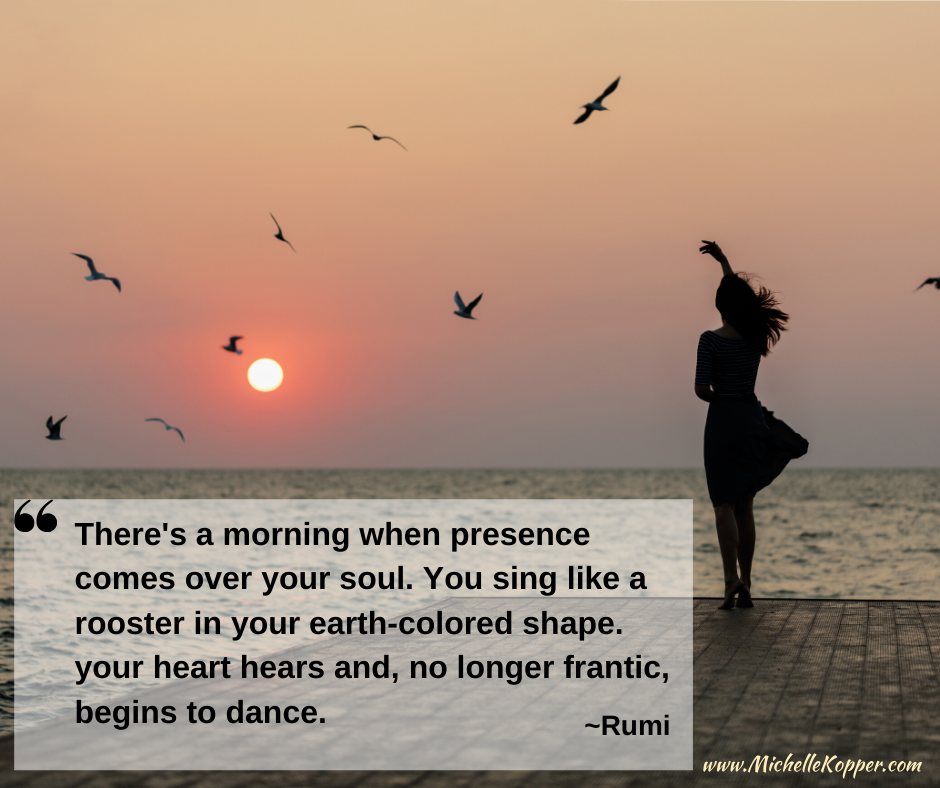 I discovered that my journey to find and free my voice was now calling me to own my marketing message so that I could reach and serve more people. I was being called to step up as a transformational leader and business owner, to play BIGGER, and that this was the next natural step in my ongoing evolution. I got inspired by the realization that I could truly make a huge impact for other experts, coaches, and healers like me.
I started to build a global business online. 

I surrounded myself with heart-centered, high-vibe marketers (who knew there were such people!?) and quickly learned that my background in theatre, songwriting, and studio ownership combined with my personal journey and transformation to find and free my voice created a totally unique perspective. That my expertise that could help thousands of other purpose-led entrepreneurs get clear, get confident, and courageously create and share their message to impact thousands or even millions.

Those first 18 months were a huge learning curve. I downloaded every template, blueprint, and formula I could find. I spent thousands of hours in webinars and masterclasses. I invested tens of thousands of dollars in coaching and masterminds. I hired energy healers to help me with blocks and fears and worked on my mindset to heal my resistance to marketing and being highly visible ... I worked ALL. THE. TIME. I became just a little obsessed with cracking the code on marketing and messaging to attract and enroll clients -- in a way that didn't feel gross -- and also brought the prosperity, business, and lifestyle I envisioned.
I tried to DO everything at once... be on every social media platform, write blogs, make videos, master email marketing, build funnels, create freebies, create digital programs, do interviews, speak on stages, create and offer webinars, partner with other entrepreneurs. 
What I learned in those hundreds and hundreds of hours and tens of thousands of dollars was invaluable... but something wasn't clicking. I still wasn't enrolling consistently, closing sales, and making the money I wanted. I didn't have a sustainable, rinse and repeat strategy for all my marketing activities. I wasn't getting ROI (return on investment) worthy of the hours of time and energy I was spending... and I was burning out. Again.
How I discovered the 7-Steps to Transformational Visibility that lets you consistently and effectively attract and enroll clients with aligned, inspired marketing from the inside out.
I realized a few very important things:
#1: All that research and investment without implementation was a DISTRACTION.
#2: I was trying to do everything everyone was telling me to do, exactly how they told me to do it...but perfectionism, avoidance, and insecurity were running the show.
#3: This distraction and perfectionism was a way to avoid the more vulnerable, intimidating... and essential... act of crafting irresistible offers, positioning them, making them consistently, having sales conversations, and following up.
I was driving myself to distraction as I followed every blueprint, formula, and template I could find... instead of tuning in to my own alignment and inspiration... to take everything I'd learned and put it together into my own cohesive system and strategy.

I had to find my OWN way. Once again, I had to find my own VOICE. This time, it was finding my aligned voice and rhythm in my marketing and messaging.
Once I tuned back into my own inner being and inspiration, I was guided through a process to get clear on what wasn't working, what needed to shift, and how to figure out what worked for me.
More and more, my Visibility Strategy became based on inspiration and alignment... with myself, with my calling, and with my audience... and everything changed!
Figuring out what to say got easy, connecting with potential clients became fulfilling, and positioning irresistible offers became second nature. Attracting clients consistently rather than trying to figure out how to reach them became the norm.
As I started to get results and have a streamlined, inspired, not-working-all-the-time rhythm... I realized I had inadvertently created a pathway that would work for others too...so that they could develop their own aligned, inspired visibility strategy and system. I've come to call this method--->>> "Marketing from the inside out."

My "Inspired Visibility" approach allows you to focus on your strengths and let your inner-guidance and intuition lead the way... so that the tactics and strategies you explore are measured against your own inner power and vision. As you build your business -- create content, clarify your offers/invitations, craft your promotions and messaging... your "visibility marketing" -- from a foundation of alignment, inspiration, and ease... marketing starts to feel as good as doing the work you love.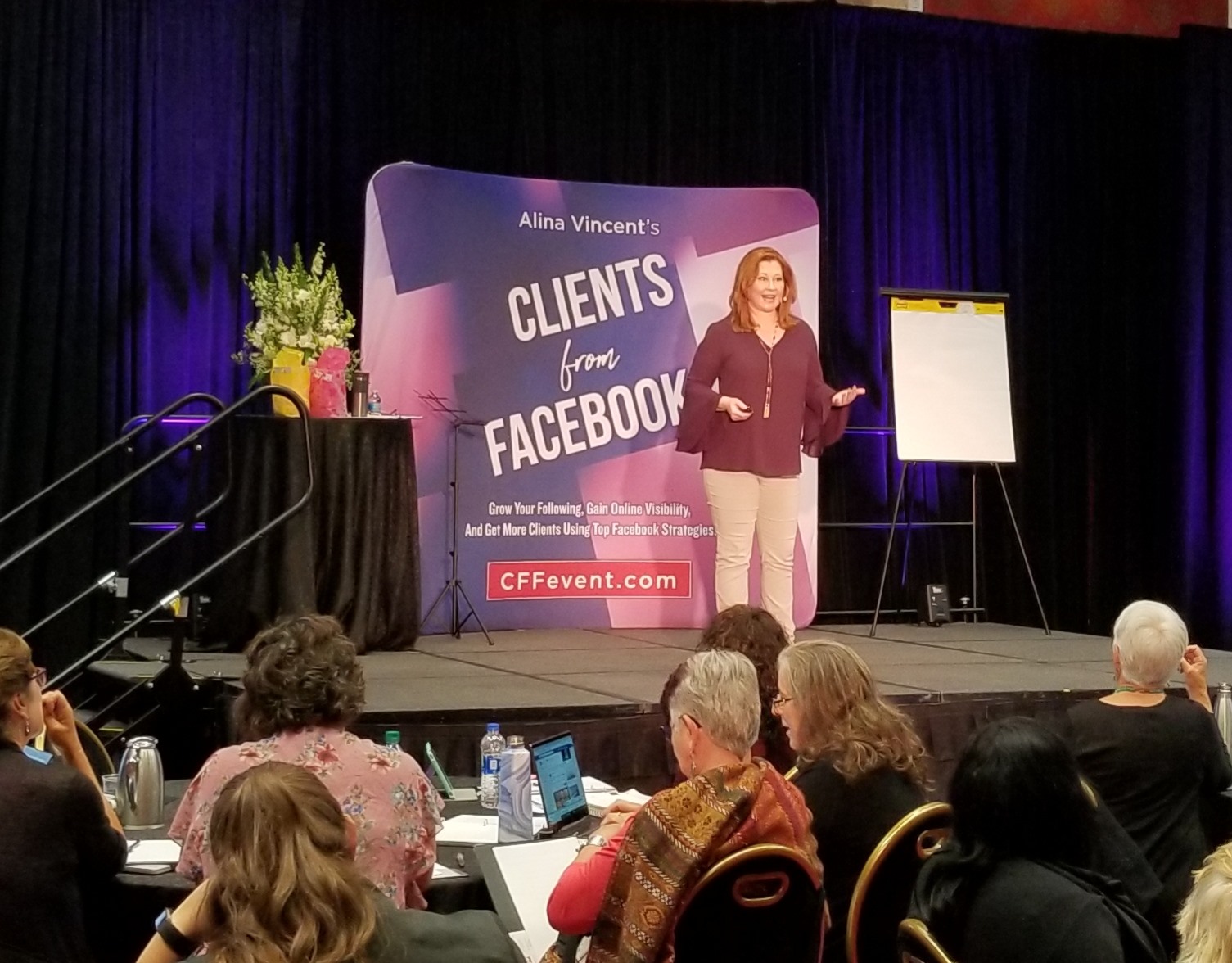 I've since helped thousands of experts, creatives, coaches, and other purpose-led entrepreneurs get visible online, tell compelling stories on stage, and craft their aligned inspired message and a streamlined visibility rhythm that attracts and enrolls clients. 
Finding this ultimate fulfillment of my own journey -- in a way that lets me and others prosper and make a huge impact --  has been unimaginably rewarding on many many levels. 
The goal of being visible is to attract and enroll amazing clients so that you can have a thriving business, fulfill your purpose, and make the difference you're here to make.
However, with any visibility platform or marketing, you still need to:


Get Leads (aka 'Drive Traffic' to your website, videos, blogs, books, and webinars)


Get Booked (on podcasts, stages, summits, lives, and be able to speak with clarity, confidence, and in a way that attracts and enrolls clients)


Close Sales by having consistent enrollment conversations, making regular invitations, and regularly giving people a way to hire you!
Here's the bad news and the good news…
The Bad News:

 Followers & Fans Aren't The Same Thing as Paying Customers and Clients
Focusing on "Being Visible" without ensuring that your visibility positions and promotes your invitations can be
A terrific time suck and huge distraction


A trap that keeps you stuck spinning your wheels so that you end up avoiding enrollment conversations or closing sales



A distraction that keeps you busy "feeling like you're doing everything you should" but getting watered-down results!
The Good News: I've created an innovative new way to market from the inside out so that: 

Your marketing, messaging, and visibility can feel as good as doing the work you love to do and get even better results.





Spirit-aligned, authentic, visibility, and your powerful presence are the secret ingredients to rise above the noise online to attract amazing clients ready and willing to hire you. 





Finding, trusting, and following your unique calling, voice, and message will simplify your client attraction and enrollment so that your invitations and enrollment calls feel like the next natural step in a great conversation.
When your visibility and marketing is inspired, grounded in your strengths, and highly focused, you can 10x Your Results and cut your effort and expenses in half.
What if you created your visibility strategy by
focusing on your strengths, trusting your gut, and an authentic, grounded connection to your most high-vibe tribe?

What if your marketing was inspired from within and written as a love song to your favorite, "rock-star" clients?


What if all your self-promotion was actually
teaching, healing, and inspiring your devoted fans to reach their own greatness with every word?
Introducing...
The Visibility Success Academy
A 7-Step Marketing Transformation Program to Help You Easily and Effectively Create Your Aligned, Inspired, Unique-To-You Visibility Rhythm to Attract and Enroll Clients.
IMAGINE...
Having a customized, feel-good, Unique-To-You visibility strategy that helps you attract clients, gain influence, and become the successful online leader you want to be...




Enjoying your visibility and marketing as much as actually doing the work you love...



Knowing the exact words your audience needs to hear to "get what you do" and be eager to sign up for your products and programs...



Streamlining your client attraction and enrollment to eliminate distractions, detours, and getting caught in the day-to-day details, so that you make more money and a bigger difference.



Transforming your relationship to marketing… so that your marketing is transformational for your audience




Having an aligned "rinse and repeat" system that generates a steady stream of "rock-star" clients as you build your business and serve many.
As you Feel Good Marketing and Being Visible You Experience Greater Joy and Ease, Your Audience Gets Greater Value and Inspiration... and the Enrollment, Income, and Impact Follow.
"I love working with Michelle in the Visibility Success Academy! She helped me set up a clear and sustainable system for being visible and reaching my target audience. The accountability of the group helped me stay on track with my goals and it was always helpful to listen to others in the group as they worked through their process as well. With the support and heart centered guidance of Michelle my business grew and I became more confident about increasing my visibility as a healer and business owner."

Janeice Gray

Journey Health Acupuncture

"OMG! I had a session with Michelle this week that blew my mind. She asked me a number of questions about my business, than channeled her muse and created a dramatic rendition of my keynote speech in just a few minutes!!!! It was a marvelous thing to witness. I'm really happy I recorded it on Zoom so I can watch it over and over. She has a superpower that can change your business and your life in a dramatic way, in every sense of the word."

Susan Blais

Professional Career Mentor

"Michelle is an amazing teacher and inspiration. Before working with her I would often be a nervous wreck before stepping up to speak or get in front of a camera. Working with her taught me that I can trust that I already know my message and the words will be there when doing a talk or presentation. She also gave me the confidence to begin speaking in front of audiences to promote my message and I already have 5 speaking dates scheduled with more on the way."

Bryan Peck

Sales Consultant & Coach
I am so committed to helping as many purpose-led, transformation industry entrepreneurs share their message in the biggest possible way through a thriving business doing what they love...
...that I've created a program specifically designed to help you to attract and enroll your BEST clients in the evolving online space and beyond with marketing that feels as good as doing the work you love AND attracts your "rock star" clients, increases your income, and ensures that you make the big difference you're here to make.
Even if you're overwhelmed by all the different moving parts or too many visibility platforms.


Even if you feel like you've tried every formula, template, or blueprint you can find with little to no results and you're worried you'll never crack the code.


Even if you feel icky about sales or uncomfortable being highly-visible right now.
Your about to discover my streamlined, proven system designed to help you create your own unique-to-you, "rinse-and-repeat," highly effective, and spirit-aligned visibility success system to attract and enroll your best clients and increase your profit and impact...

The Visibility Success Academy is Your 7-Step Marketing Transformation Program
Here's just a taste of what you'll experience when you join... 
Session #1: Lay Your Inspired
Visibility Foundation
Allow Inspiration to Lead

Access Clarity: Crystalize your offer

Align Your Vision: Decide, Commit & Act

Own Your Value | Establish Your Pricing
Session #2: Master The Four Phases of Visibility
Establish your expert

status


Engage your audience

Position your offer

Empower your sales as you invite and enroll
Session #3: Discover Your Unique Profit Path™
Own Your Expertise
Engage Your Inner Expert To Attract & Enroll Your Best Clients
Embody your vision & voice in your marketing message

Confidently Position Your Offers for YES!

Session #4: Create Your Inspired Invitation
Create & Commit To Your Next Inspired
Invitation
 Claim Your Audience: Identify & Narrow
The Niche For Your Next Offer
Frame Up Your Offer Like A Flashing
Marquee So It Shines Like A Beacon To
Your Audience
Session #5: Uncover Your Inspired Visibility Platforms
Identify & Activate Your Visibility Strengths
Which Visibility Platforms are Right For You?
How to leverage platforms to work together
How to streamline your content creation to save time and energy so that you create consistent messaging and reliable results

Session #6: Design Your Inspired Visibility Strategy
Discover Your Content Creation Style
Decide What, When, Where And How Often To Post On Each Platform

Create Your Inspired Right Action Plan to get more done, more quickly, with better results

Session #7: Amplify Your Online Influence
Master Your Fearless Follow-up
Expand Your Reach: When to Explore New Platforms (and when not to!)
Solidify Your Unique Profit Path so you can rinse & repeat it at will
Close the Sale: Enthusiastic Enrollment!
Claim Your Clarity, Self-Compassion, Courage & Confidence
"I've been working with Michelle Kopper for a few years -- including her Visibility Success Academy (which I did twice by the way). I now have weekly Facebook lives, use video to sell, have created and filled a pilot program and a group coaching program. I've signed high-end coaching clients and I'm creating my first summit ever. There are so many business coaches and strategists out there that want to give you their cookie cutter way - Michelle Kopper empowers you to find your way!"

Rachell Kitchen

CEO of Level Up For Life Coach, LLC.

"Michelle is phenomenal! She cuts through the flotsam and jetsam of your perceptions to find the real vision and message that's in your heart! Then, she helps you fine-tune, hone, and polish it to perfections. Then, she gives you tools to free your voice so you can spread that vision and message to the world. No fluff. No hype. Just real heart-to-heart coaching!"

Ferrell Hornsby

Author

"Michelle is awesome! She taught me exactly how to use my voice to get my message out there in the clearest way possible. With her help, I was able to fundraise almost $2,000 in one day to get my business going! Working with Michelle boosted my confidence and helped me to succeed in a medium I knew nothing about before talking with her."

Bryn Biemeck

Founder of American Victories
Here's What You'll Get When You Join...
Complete 7-Step Visibility Success System
7 Digital Training Modules with a multiple videos in each lesson, distilled from hundreds of hours of research into what works in today's online landscape





My personal instruction and insights in each video as I reveal the entire 7-step marketing transformation system





Hands on curriculum designed to help you to create your unique-to-you visibility strategy that attracts and enrolls clients consistently
VALUE $5000
Complete, Step-by-Step Guidebooks for Easy Reference for All 7 Sessions
Priceless Resources: To tap into your inspiration, align with your strengths and uplevel your message.
Timeless Templates: To create your Inspired Invitations, Flashing Marquees and Compelling Content
Powerful Exercises: To claim your voice, your vision and your Inspired Visibility 
Value: $1500
The Visibility Strategy Map Workbook
This step-by-step downloadable workbook will guide you to create your inspired invitation and strategy for each new product, program, and service you create as your business grows!
Value: $700 
Access to the Visibility Success Academy Facebook Forum
Receive support and feedback of this exclusive community

Ask questions and brainstorm content with other purpose-led entrepreneurs.

I am very active in this group during the 9 weeks of mentoring sessions and will give you the support you need to keep moving forward between sessions!
Value $1000
Program Value: $8,000
Your investment today is just: $4997
When you enroll today you will get a welcome email within minutes with your log-in details and access to the Session 1 of the digital Visibility Success Academy course!
Including: 

Instant Access to the Intention Setting Orientation and Session 1 of the program

An invitation to join the VSA Facebook Forum to make your introduction




Preliminary details on how to get started, gather momentum, and get the best results from this powerful course!
Plus, You'll Also Get Access To This Visibility
Business Boosting Bonus Package--->>>
Total Program Package Value: $8,000
Your investment today is just: $4,997
(Special Limited Invitation  | Payment Plan Available)
"Visibility Success" Guarantee

I'm so confident of the value of this program far exceeding your investment that...when you complete the course content, participate in the calls and the Facebook group, and implement the strategy, techniques, & tools inside this program you will get results.
If after completing the course work and implementing the tools in your business you feel that you have not gotten value beyond your investment I will personally support you getting those results.
If, after that, you are dissatisfied with your results you can send me an email, show me your work within 90 days of purchase, and I will send you back every dollar.
Here's A Summary Of All That You Get When You
Enroll In The Visibility Success Academy Today:

✔ The Complete Visibility Success System including 
7 Digital Training Modules Value $5000
Step-by-Step Guidebooks for Easy Reference Value $1500
The Visibility Strategy Map Workbook

Value $700

Lifetime Access To the VSA Facebook Forum

Value $1000



✔ 9 LIVE Group Mentoring Sessions Value $3500   
✔ BONUS #1: Online Business Building Basics LIVE Workshop Value $1000

✔ BONUS #2: Video Quick-Start Bundle Value $1000
✔ BONUS #3: Grow Your Audience on Facebook Bundle Value $1500
✔ BONUS #4: Visibility Power Up Mastermind 3-Month Membership Value $1000  
✔ BONUS #5: What To Say 2-Day Virtual LIVE Event Value $2000                

Total Value: $8,000
Start today for only $4,997 

"I knew that I should be "putting myself out there" in order to grow, but actually doing it in an effective way is a whole other thing. Through Michelle's guidance in the Visibility Success Academy, I gained clarity on my messaging, my confidence increased, and I feel much more comfortable being visible. I gained 3 new clients while actually participating in VSA and continue to create leads each week as a direct result of what I learned and implemented during VSA."

Nicole King

Technical Virtual Assistant

"Michelle Kopper is a true professional. In only one session, she helped improve my talk tremendously, and gave me several valuable ways to increase the impact of my delivery. She offers a rare, and wonderful combination of creating valuable content, and with her performance background, teaches proven techniques to improve one's stage presence, voice clarity, and timing. I'm glad I recorded our session, as I continued to learn while listening again. Michelle is a master of performance, and she is delightful to work with, as well. I highly recommend her."

Cricket Wingfield

MD, Healer & Coach

"Michelle's Visibility Success Academy is the momentum booster I needed to take my coaching business to the next level. She is passionate and creative in bringing out the gifts of others."

Melissa Pierce

Author, Filled With Gold
We are poised for transformation.
The world is in a state of rapid and constant flux right now. We're living on a moment to moment basis in an intensified circumstances.
In order to serve and thrive during these times you need to cultivate the superpowers of flexibility. We all need to nimble and present.
This is the new normal: Transformation. Evolution.
No one knows exactly what the transformation will be. As the old paradigms break down -- the disruption and uncertainty creates incredible opportunity for things to shift toward something greater.
Your actions, online presence and leadership through your thriving business now will establish you in your industry and dramatically impact your audience and potential clients for years to come…
That's why I've pulled this incredible opportunity together for you.
In the best of times, true leaders have collaboration and support. Right now we need that kind of support as much as we ever have -- or more.

Enrollment in this special, limited invitation and pricing closes soon as the LIVE course begins right away.  This pricing and these bonuses will not be offered again. 
The Visibility Success Academy is a 1-of-a-kind transformational marketing program. The additional avalanche of support including the 9 LIVE Group Mentoring Sessions and the incredible additional support in the "Visibility Boosting Bonus Package!" is only 
available for a limited time...
00
days
00
hours
00
mins
00
secs
NOW is the time to accelerate your client attraction and enrollment. The world is clamoring for help and there are people who seek exactly what you're here to share. 
Warning! This training is NOT for you if…
You want to know all the ins-and-outs of every social media platform, to master SEO, or uncover the mystery of paid ads and complicated online funnels

You want me to give you a "My Way or The High Way" System and expect it to work for you

You're looking for a formulaic, "canned" marketing approach

You're afraid or unwilling to invest in yourself and your business to create the changes and success you say you want

You aren't willing to look at & let go of: what's keeping you stuck, playing small or ... letting uncertainty, self-doubt, or overwhelm run the show
Tune In & Ask Yourself...
Do You Want an Inspired, Unique-To-You System to Attract & Enroll Clients?


Are you ready to have a streamlined, feel-good rhythm that maximizes your marketing & visibility while freeing up your time, energy, and attention?


Would you like your marketing to feel as good as doing the work you love?


Are you 100% committed to showing up fully to answer your calling and serve the people who are looking for your help in the biggest possible way?



Would you like my help and support doing it?
...If so, this training is designed just for you!
Total Program Package Value: $8,000
Your investment today is just: $4,997
A Personal Message From Michelle
Whether you're just getting started in your purpose-led, online entrepreneurial journey or you're an emerging leader, an established change-maker, or inspired thought leader ready to kick things up another notch...the world needs your voice.
Now is truly the time for you to step up and step in to own, embody, and share your message.

Visibility is an inside job.
No more holding back. No more waiting. You are not alone. You can do this. It's important. You and your message are worthy. There are people who are waiting for you to show up fully, consistently, and confidently so that they can find you, hear you, and hire you.
This is the journey of today's Purpose-Led Experts and Visionary Entrepreneurs... many of whom feel inexplicably vulnerable when it comes to being highly visible... but it doesn't have to be that way.
No matter what challenges, limits, engine-stalls, fears, doubts, confusion, or overwhelm you face, you have a essential gift to bring to this world, a unique and powerful light to shine and there are people who need exactly what you bring, exactly the way you bring it.

Your clarity, prosperity, and impact are your destiny... but they don't happen alone. Every Great performance has a director and every successful person has collaboration, community, and support. 
Your Inspired, Aligned, and Enthusiastic Visibility marketing is an essential part of sharing your message and mission in the biggest possible way...and will have the greatest impact of any business building action you do.
I would love to welcome you to the Visibility Success Academy and give you my personal support to help you soar as you attract and enroll more clients and have the satisfaction and results that come from alignment, inspiration, and guided-right-action.
I have total confidence in you.

Love,
Michelle

Frequently Asked Questions
These are some of the questions people most frequently ask us:
I am so busy but this feels like it's something I could really use, how much time will it take?
This program is designed to help you streamline your busy-ness and get better results. Unless your busy-ness is helping you have the impact and make the money you want-- it's could actually be one of the reasons you aren't having better sales and faster growth. 
Aside from the coaching call time, you can probably complete the course content in 30-45 min a week. You will integrate this content into your business each day so you will be implementing, incorporating, and embodying it as you go. 
I've already invested so much in business, I'm hesitant to invest more... is this really worth it?
This program is designed to help you get clear, get confident and get more clients. If you're fully committed to Inspired Visibility and are prepared to decide, act, and invite -- your income will increase.

So the question is, can you afford to keep doing what you're doingt?

Can you afford to spend another moment stressed, struggling, and spinning your wheels being visible – or wondering how to be – without increasing sales?
To make the investment as easy as possible, we have a payment plan to get you started for your first payment of $199...
How is your course different?
This course is about you taking the best practices of timeless marketing techniques and all you've already invested in growing your business, getting visible, and getting clients...

And finding your alignment and unique visibility strengths and content creation style to create a system that works for you. 

It's NOT about doing it my way or someone else's way, but rather is designed to help you find YOUR way. 
I'm not giving you my formula I'm helping you create your own.
What kind of support do you provide in the program?
During our 9 weeks together, you'll receive my personal support in weekly group mentoring calls and in the private Facebook Forum between sessions.
PLUS, you have more of my personal support in the Online Business Building Basics workshop, The Visibility Power Up Mastermind and the 2-Day the "What to Say" LIVE Virtual event.

This program is designed to be an avalanche of support to help you ow your inspired visibility and 10X your confidence around being visible, claim your voice, create inspired and irresistible offers as you embrace and embody your aligned marketing and visibility style.
Can I join VSA later?
This program is available as a digital, homestudy program for full price of $4997 anytime.

The bonuses included with this invitation are exclusive to September 2020 enrollment only.The digital home-study version does not include these bonuses or group mentoring calls with me.This invitation includes 9 LIVE mentoring sessions as well as extensive support in the VSA Facebook group between calls during the LIVE run of this course..

Will this really work for me?
This program is designed to help you get crystal clear on what works for you. We start with your strengths and some structure and then provide an avalanche of coaching and support.

When you engage completely with the course content, do the exercises and participate fully in the calls and the Facebook group, to implement the strategy, techniques, & tools inside this program you will get results.

If you are NOT getting the results we'll provide support throughout the course to help you move forward.
Every past participant who has engaged and completed this program has rewired their relationship to marketing and discovered how to find their voice online and be highly visible in a way that attracts and enrolls clients and establishes them as a leader. As you focus on staying in inspired action and embrace the aligned messaging strategies you will attract and enroll clients using the approach you discover and the strategy you create during the course.
About Michelle Kopper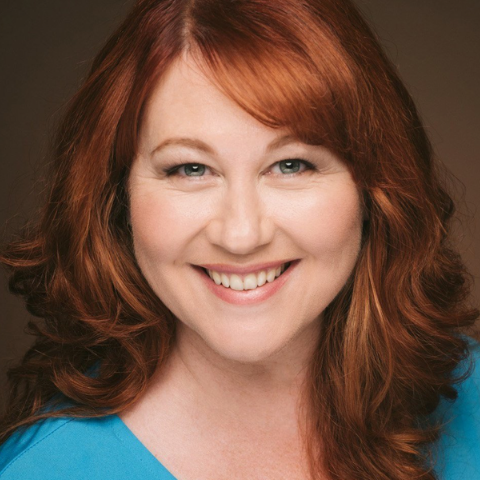 Transformational Message Mentor, Michelle Kopper, is a Visibility Expert who helps other experts, coaches, healers, speakers, and purpose-led entrepreneurs find their voice, clarify their message, and expand their powerful presence so that they can grow their reach, impact, and income as they give voice their vision: online, onstage, and on-video. Michelle's unique approach to visibility – online and off -- helps you find your words, activate your confident presence, and turn your vulnerability around being seen and heard into your greatest marketing asset so that your message inspires and moves your audience to engage and hire you. Her journey to overcome her own debilitating stage fright has given her unique insight into overcoming visibility blocks and fears. 
A lifetime as a professional actor-singer-songwriter, decades as a performance mentor and healer with teaching studios in both New York City and Portland Oregon, Michelle combines performance, ancient wisdom teachings, movement, energy work, and spirit into her unique Transformative Witnessing Method (TM). Her mastery of marketing and messaging along with her strong intuitive ability to download aligned language for her clients has helped many, many purpose-led experts dramatically transform their confidence around being highly visible to amplify their client attraction & enrollment results.